I first heard of Yumthang Valley after visiting the original Valley of Flowers in 2010. I was looking for similar places and Yumthang showed up as the Valley of Flowers of Sikkim along with some other places in other states such as Dzukou Valley in Nagaland and Kas Plateau in Maharashtra. Fortunately, I have gradually managed to cover most of them over the years, although not necessarily in the peak blooming season. Since Sikkim itself was eluding me, Yumthang also remained elusive… Untill this January. So, I finally visited it, but in the winter, when it was under a thick blanket of snow and no flowers to speak of… except one.
Gangtok to Lachung
We started from Gangtok early in the morning and I was relieved to escape Gangtok, which was too big a city for my liking. Initially the landscapes were not particularly remarkable till Mangan, which is known for cardamom cultivation. After that, assessment gained altitude, the views started improving. First noteworthy place was CHungthang, where Lachen and Lachung Rivers, flowing through the eponymous villages, form the river Teesta. There is a phydel project here, along with an army camp and even a gurudwara. We also came accross a few waterfalls after that.
Finally we reached Lachung, where our stay had been arranged in a newly built hotel. Lachung is a small place by the side of the river with many hotels. It was already too late for any kind of sightseeing, so we just walked around a bit in the village and spotted some prayer flags and a dog.
Lachung to Yumthang Valley
We started early in the morning. The news from the valley was that due to heavy snowfall we may not reach the valley and simply enjoy snow after travelling halfway to the valley. I was not happy with this prospect at all but nevertheless, the drive started.
We mostly drove along the river and the views improved as we left the village behind. Thankfully the day was cl longear and a few peaks were visible. After a while we spotted a yak and stopped the car in excitement. There were a few more nearby. However, none of them had the minimal regard for the visitors and no one bothered to pose for the camera and kept walking towards the peaks. After a few futile minutes, we got back to the car and moved on.
After a while, we reached the official entry point of Shingba Rhododendron Sanctuary, which is the official name of the protected area around Yumthang Valley. There is an entry gate here but there was no one issuing tickets. I don't know if it is always wood they disappear during the winter. Anyway, we moved on after a few more photographs. Lachung did not really have any snow but after this point, everything seemed snowfall. Rhododendron trees, Yumthangs pièce de résistance, were everywhere on both sides of the road, but they were morose and overwhelmed by all the snow.
Many other tourist vehicles had crossed us but the area seemed desolated in general. However, all that changed after 15 minutes as we suddenly reached a point of commotion. Apparently the cars were not going beyond that point and the main valley was still 10 KMs away. Most tourists had gathered there and starting to throw snowballs at each other (because they have seen that it movies). W left the car and started walking forward, hoping to leave the crowd behind but i noticed that there was an even bigger crowd at one point. I peeked through the shoulders of the people and finally a surreal.sight unfolded!
There were a couple of locals selling refreshments, not just any refreshment but whiskey and rum, along with boiled eggs and fried gram. I think it was a heavenly combo in a snow-covered, January morning. It may not be a big deal in other country but Indian authorities are generally known for killjoy regulations and alcohol is definitely something that can trigger them. But Sikkim is a different land, a different kingdom. They don't care about such things. These revolutionary entrepreneurs should expand to other states.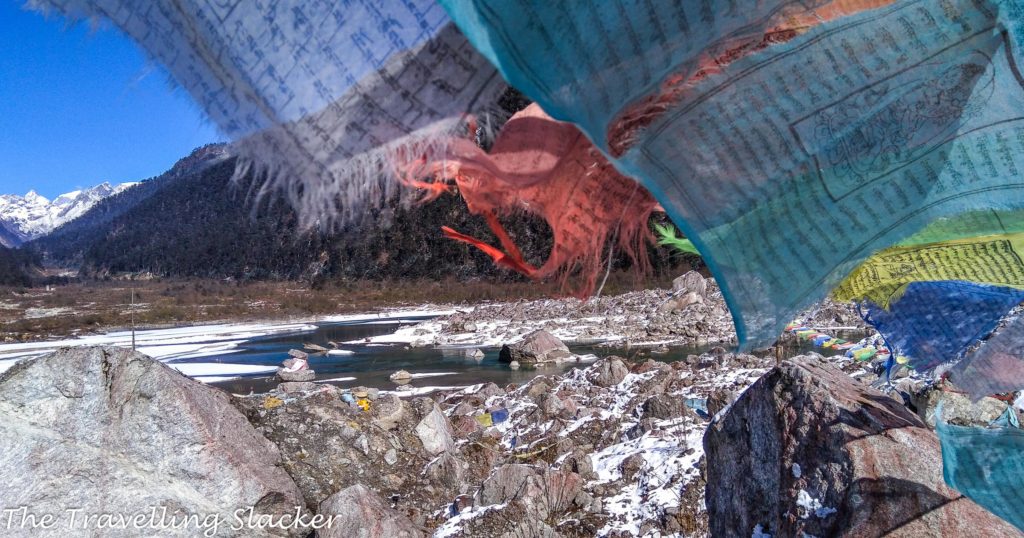 Delighted and intoxicated (by the natural beauty), we finally acquired the necessary momentum to leave behind the crowd. We walked fast, left the road, and tried to reach the river, which was flowing a bit far away. Snow was around a foot deep at places, but the Dutch courage allowed us to negotiate the same and reach the river. We spent some time clicking pictures of the semifrozen river. We could see a brief the over a the river a bit far away and decided red to walk till that point atleast. However, exactly at that point we saw academy coming, from the other side! The road was open!
We quickly came back to the road and soon it was confirmed that the road till the valley has opened up. It was only 10 am and we had the whole day in front of us. So, we decided to walk back and find our car and move before the rest of the crowd realized the same. Thankfully our driver had also realised it and come forward. We got into th car again and drove towards the valley quickly.
We kept driving along the river, and quickly reached the Yumthang Valley, the beginning of which was marked by a cluster of wooden huts serving as restaurants. We tried to find something to eat but the options seemed limited. Although a lot of things were mentioned in the menus of those shops, I think they operate fully only during summer. In January, the only options they had were tea and Maggi and collecting ice and melting it for water. We had some tea and started exploring the valley.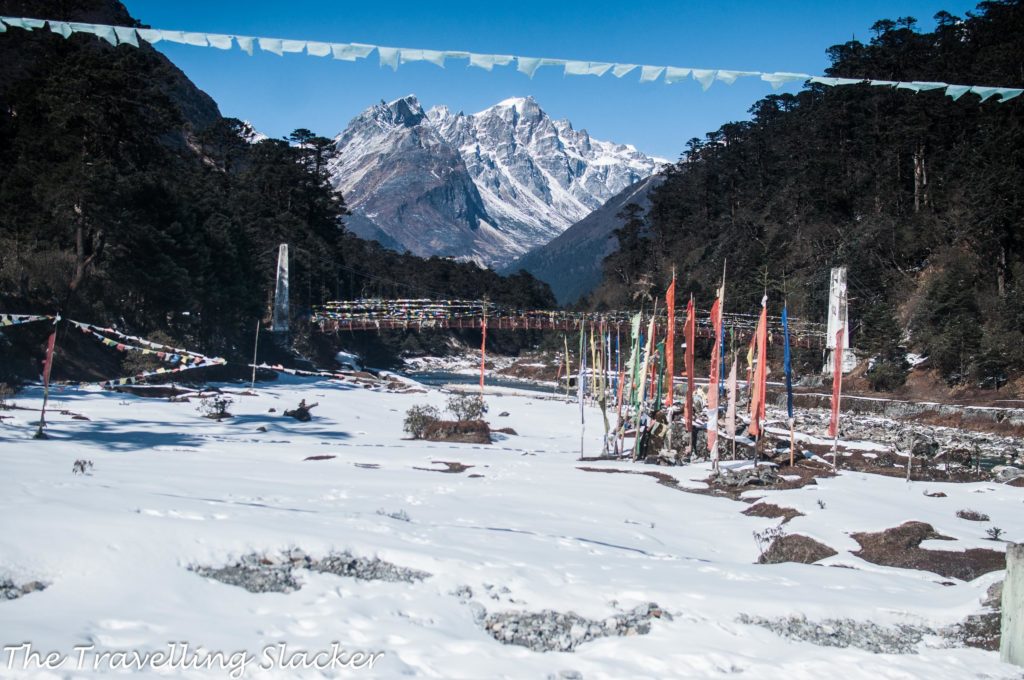 Now, this was that time again for me, of reaching a fabled place in the off-season and imagining how it would look during the prime season after a few months. All I could see was a vast, white expanse although I must admit that a few peaks beyond the valley stood out and the clear sky was also delightful. There wee rhododendron trees and there were colourful prayer flags, but all partially buried. Some otehr year, I'll have to return here. As per offical records, there are 24 different types of rhododendrons here. With my limited knowledge, I generally identify rhododendrons base on their colours (red, pink, & white!). In the non-flowering season, even that was not possible. So, I just walked around clicking disappointing pcitures.
Another aspect was bothering me at this point. The difference beween Yumthang and many other high altitude flowering meadows is that it is motorable. You don't need to trek to reach Yumthang (although I think there exists a trek route too). Even in the winter, it was already full (Other tourists stuck at the previous point had also arrived by then). I can only imagine how crowded it'll be in the season.
The road from here goes till the Zero Point (Yume Samdong), which is around 23 KMs further from Yumthang. It is called so because it is close to the international border with China and civilians are not allowed beyond that point. It is located a bit higher up and as far as we could see, the landscape was going to be the same. So, we gave up on the Zero Point. But by that time we had noticed a signboard pointing towards the Hot Water Spring. So, we decided to try that one.
At the bridge over the river.
Yumthang Hot Water Spring
The Hot Water Spring in Yumthang is located on the other side of the river. It took some time to find the exact path through the snow to reach the bridge over the river, which was overwhelmingly covered with prayer flags. After that, we noticed a flight of stairs, but it was a strange one where every step is 1.5 feet high, designed for the Brobdingnags. I am still not sure what is the purpose of those stairs but we soon realized that the route to the spring was a different, less prominent one. Actually a house has been built over the natural spring. It was somewhat disappointing. There is no way to really get a view of the spring inside the dark rooms of that house. This thing deserves a rethink and redesign.
Back at Lachung
We resturned to Laching by 2 PM and we still had a lot of time remaining. So, we decided to visit the locla monastery. This was also located on the other side of the river, so took us some time to find the way to the bridge as our hotel was located in a different corner. It is a Nyingma monastery established in 1880. Just like most other monasteries here, it seemed well maintained and the walls were full with Jataka tales. But what I enjoyed more was the meander around the village. The next day, while returning, we saw another smaller monastery on another side of the village.
The weather had deteriorated by the evening. On hindsight, we had visited the valley on the perfect day as the previous day was as gloomy as the next one. Apart from the blooming rhododendrons, another thing that remained unfulfilled in Lachung was the plan to drink Tongba, the local millet based beverage. The hotel owner tolm that due to excessive cold it was not fermenting. Anyway, we had a good dose of that a few days later in Namchi but that is a different story.
Also Read: Chopta: Snowfall & Rhododendrons
Yumthang Valley Travel Guide
How to reach Yumthang Valley?
Yumthang Valley is located in the district of North Sikkim. The base for Yumthang is Lachung, which is a village that is gradually becoming a town due to tourism. Lachung is 118 KMs from Gangtok and takes around 5 hours to drive. Unless you have a vehicle at your diposal, your best bet is to find a shared car going towards it. Yumthang Valley is around 24 KMs from Lachung and you will again need to have a vehicle or hire a local one to reach it from Lachung.
Are there buses to Lachung?
No. As far as I could figure out, there are no buses to Lachung from GAngtok. The buses go only till a town called Mangan, which is midway between Gangtok and Lachung.
Permits for Yumthang Valley?
All places in North Sikkim require permits to visit. However, for tourists, it is not that hard to get. Generally your tour operators or hotel owners can also arrange it for you so that you don't have to waste your timing at the office. Just provide a copy of your ID and a photograph to them. There is no extra charge for the permits as far as I know.
Where to stay at Lachung?
Lachung has many hotels and you can also pre-book them online. However, as far as I could see, they are not very budget-friendly. I asked a few people but could not find anything below INR 1500. I was of course invited and so it was not an issue for me in this trip but when I go myself, I never like to spend more than INR 500 per night. I will update this space if I find out about more affordable options.
What is the Best Season for Yumthang Valley?
Spring (March to Early May) is the best season for Yumthang, when the rhododendrons bloom, along with other wildflowers. In any case, it remains open throughout the year although extreme dainy months are generally avoided. People also visit it in winter to enjoy snowfall.
Food and other facilities at Lachung and Yumthang?
There are some basic restaurants selling fast food and cheap woollens just at the entry of the Yumthang Valley. As mentioned before, we also found some roadside venodrs selling alcohol and snacks on the way to the valley. At Lachung mostly the hotels provide the food although there are a couple of basic restaurants too.
Phone and Data Connectivitiy at Yumthang
Network exists here but it is somewhat weak in Lachung and beyond. I stuggled to make mine work but eventually gave up.
ATM in Lachung
I think there is an ATM or two there but don't rely on it. ATMs in small places don't always remain functional. Get all your cash from Gangtok before you leave.