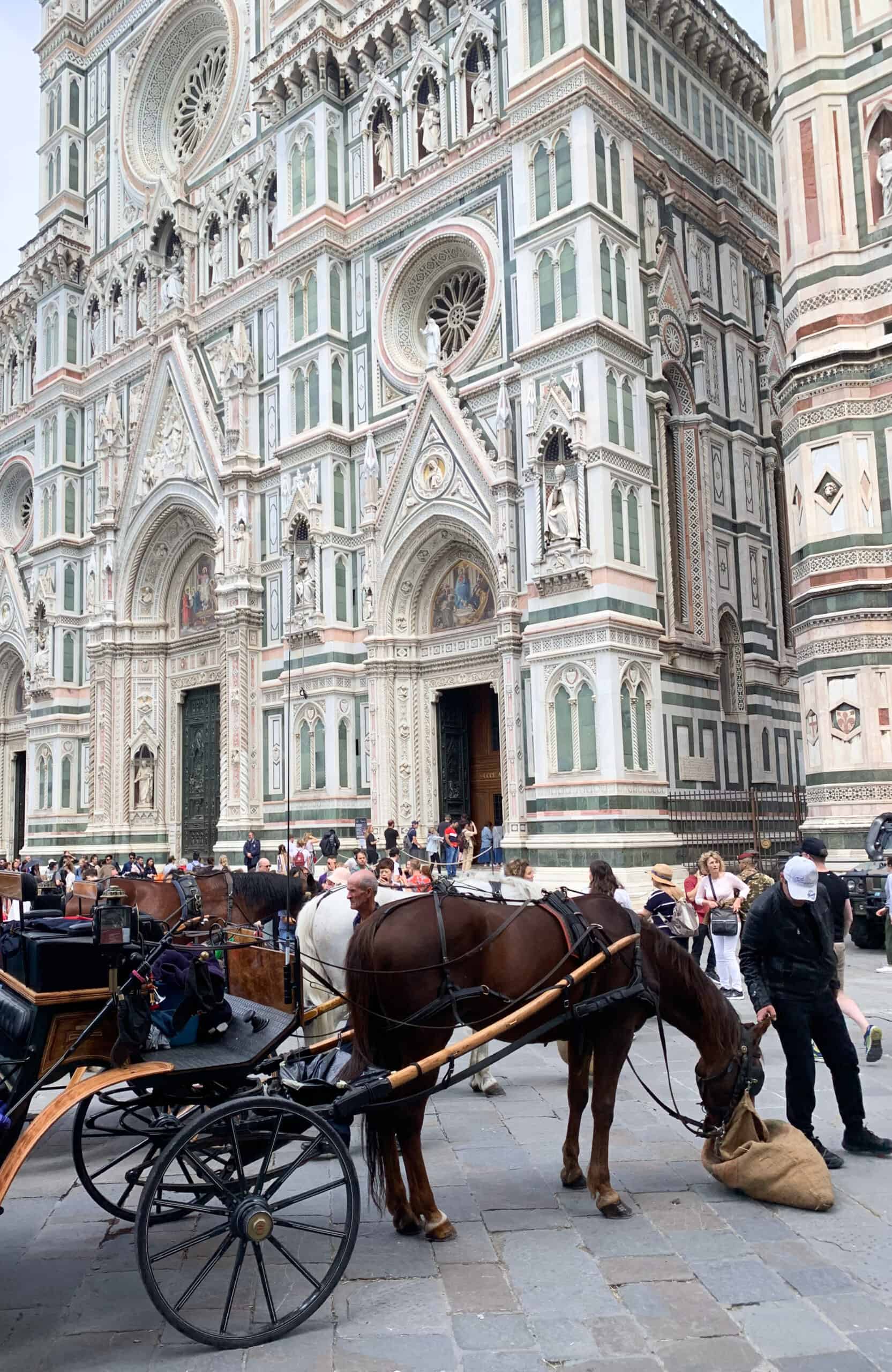 Editor's Note: Planning a trip to Italy? Misha Inglis of Misha Says shares her foodie tips in this budget food guide for Florence.
Florence is recognized as a food mecca in Italy, famous for its Tuscan cuisine, made with simple and fresh ingredients.
Tuscan fare specific to this area includes the mouthwatering Florentine steak, lampredotto sandwich, wild boar ragu, artisanal truffles, and local olive oils.
Florence is a walker's paradise, and because of this, most of the plentiful food options in this city can be accessed on foot.
With so many options, you don't have to break the bank to eat well in Florence.
Types of Restaurants in Florence
Food establishments in Italy fall under four categories: cafés, osterias, trattorias, and ristorantes.
Knowing these four terms can aid in deciding the type of meal you are looking for.
As a general rule for budget travel, always keep an eye out for osterias for a good value meal.
But, don't rule out trattorias as many dishes will only be a euro or two higher than the nearest osteria, or sometimes not higher at all.
Cafés are plentiful in Florence as Italians run on espresso. You can expect to pay 2 euros for an espresso in tourist areas and 1 euro for more local spots.
Osterias are traditionally low-cost casual places for a bite to eat.
Trattorias are restaurants with take-out food available. They often are casual and have lively atmospheres.
Ristorantes are typically elegant and fine dining establishments. Expect to dress to impress at these types of restaurants.
However, the words osterias, trattorias, and ristorantes are now used interchangeably, as the restaurant scene has evolved.
Low-cost osterias can now offer opulent dishes, and a hole in the wall may affix the word ristorante to their name, so it is always best to check the menu before assuming the type of restaurant.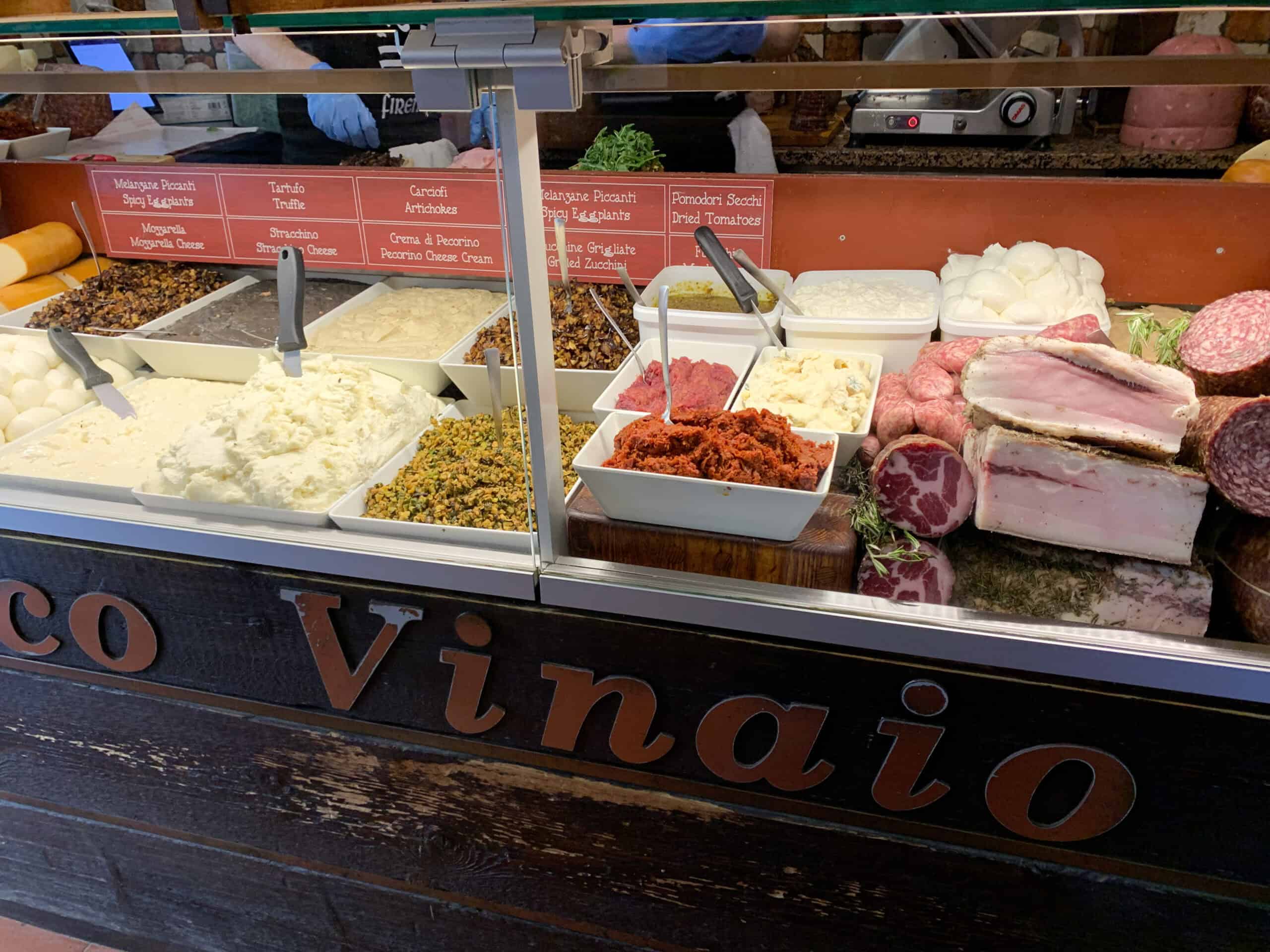 Tipping in Florence
Restaurants situated near famous landmarks can often be tourist traps.
With a quick search on your phone, you can check out some recent reviews to ensure that you are getting a good experience.
These are more likely to have a cover charge or coperto, which covers the cost of setting up the table and bread.
Some restaurants will charge a coperto of 2 to 5 euro for sitting down.
When ordering at the counter, the server will usually ask if it is for takeaway or dining in and add the charge accordingly based on your answer.
Most restaurants in Florence also have accounted for service or servizio in the menu price.
It will display something to the effect of "servizio e coperto incluso" at the end of a menu, noting that service and cover are included.
So, there is no pressure to tip on top of this final bill price as a percentage of the bill already has a type of tip built-in.
At a café, you may round up the change for your coffee.
If you are at a fine dining establishment, you may leave a note for the waiter if they provide exemplary service, but it is not generally the custom for Italians.
See also: Revisiting Florence – Highlights from a Return Trip
Top Budget Food Recommendations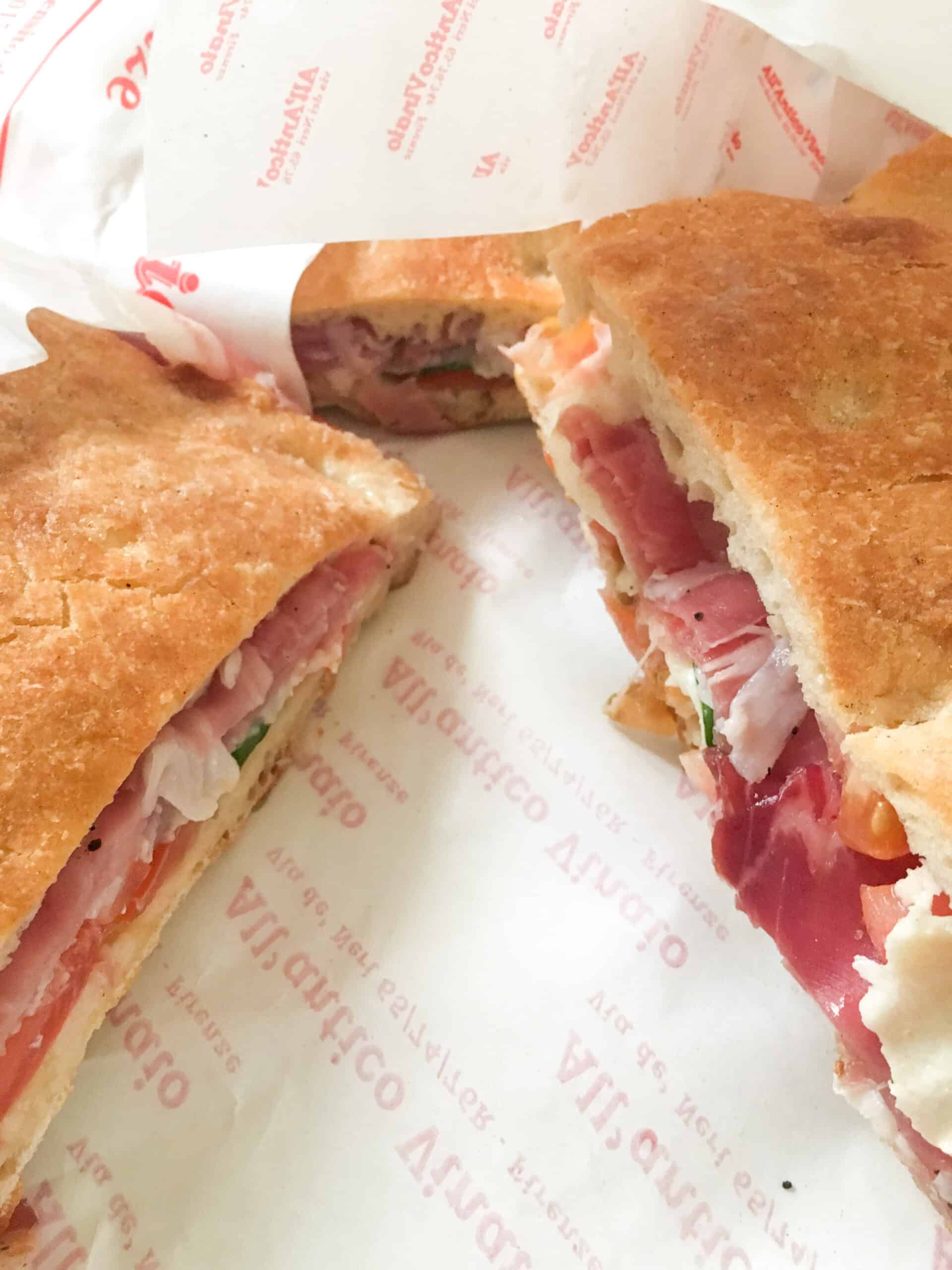 All'antico Vinaio via dei Neri, 76 R, 50122 Firenze FI, Italy
All'antico Vinaio is my top recommendation for a unique sandwich experience that can't be found in any other city.
The lineups can be grueling depending on the time of day and day you visit but are certainly worth it.
I would recommend trying to eat at off-peak times, like when the shop opens or closes, to avoid the queues of locals and tourists alike.
Regular menu sandwiches are only 5 euros each and are large enough to feed two, but I have a feeling you won't want to share these delicious creations.
The sandwiches are made to order and feature artisanal meats and cheeses in unique combinations special to this family-run shop that has been making them since 1991.
I highly recommend the Inferno, made with Tuscan roasted pork, grilled vegetables, spicy cream, and rocket salad.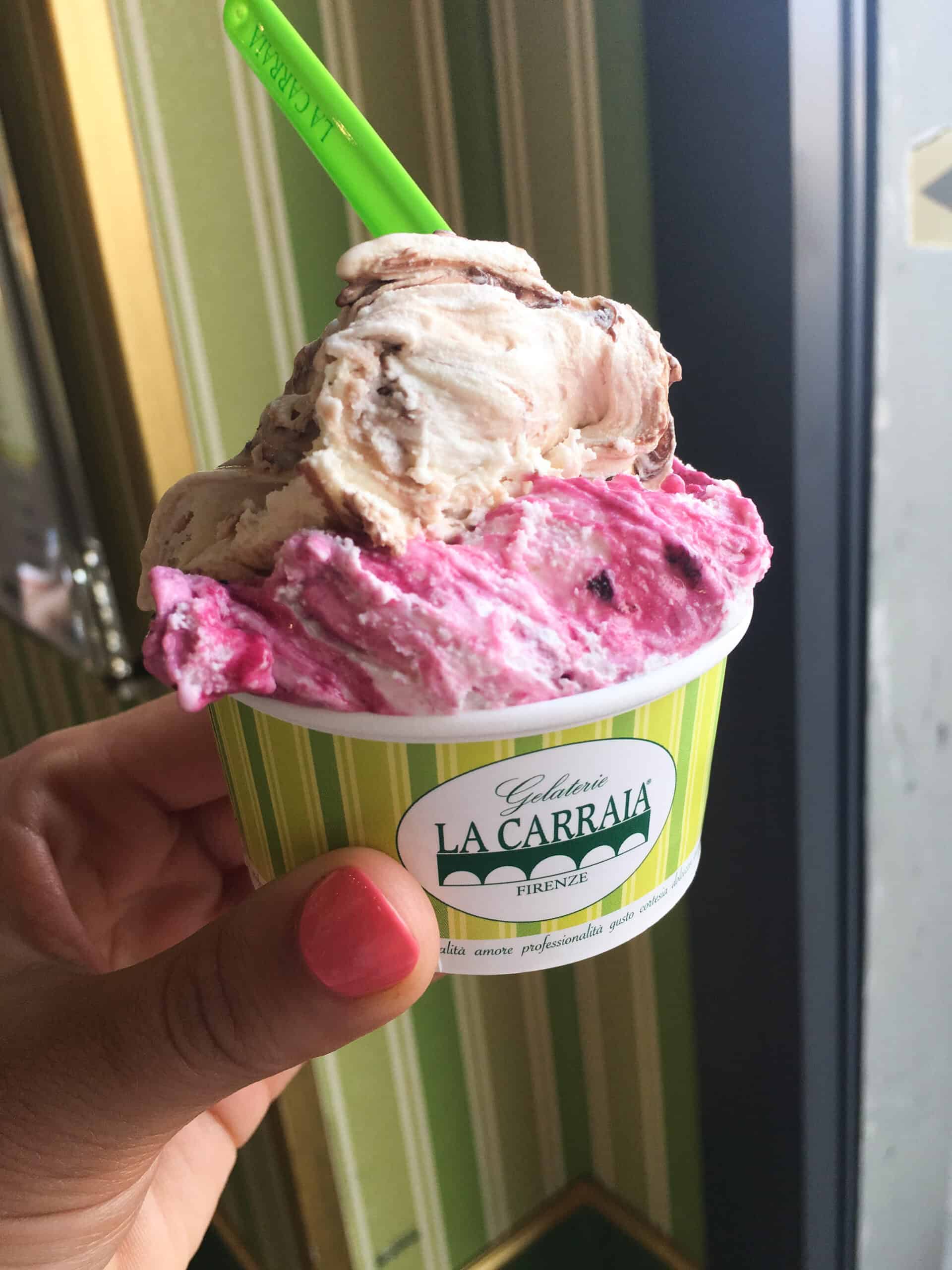 La Carraia Piazza Nazario Sauro, 25/r, 50124 Firenze FI, Italy
This is the oldest gelateria in the city, and without a doubt, this has to be the best gelato in Florence.
With flavors such as pear and mascarpone, amaretto cherry, pistachio, chocolate hazelnut, mango, mint chip, and the classic Limone, you really can't go wrong with any of the creamy flavors here.
It is just 1 euro for one scoop or 2 euros for 2 scoops. Lineups can be long, but they move quickly.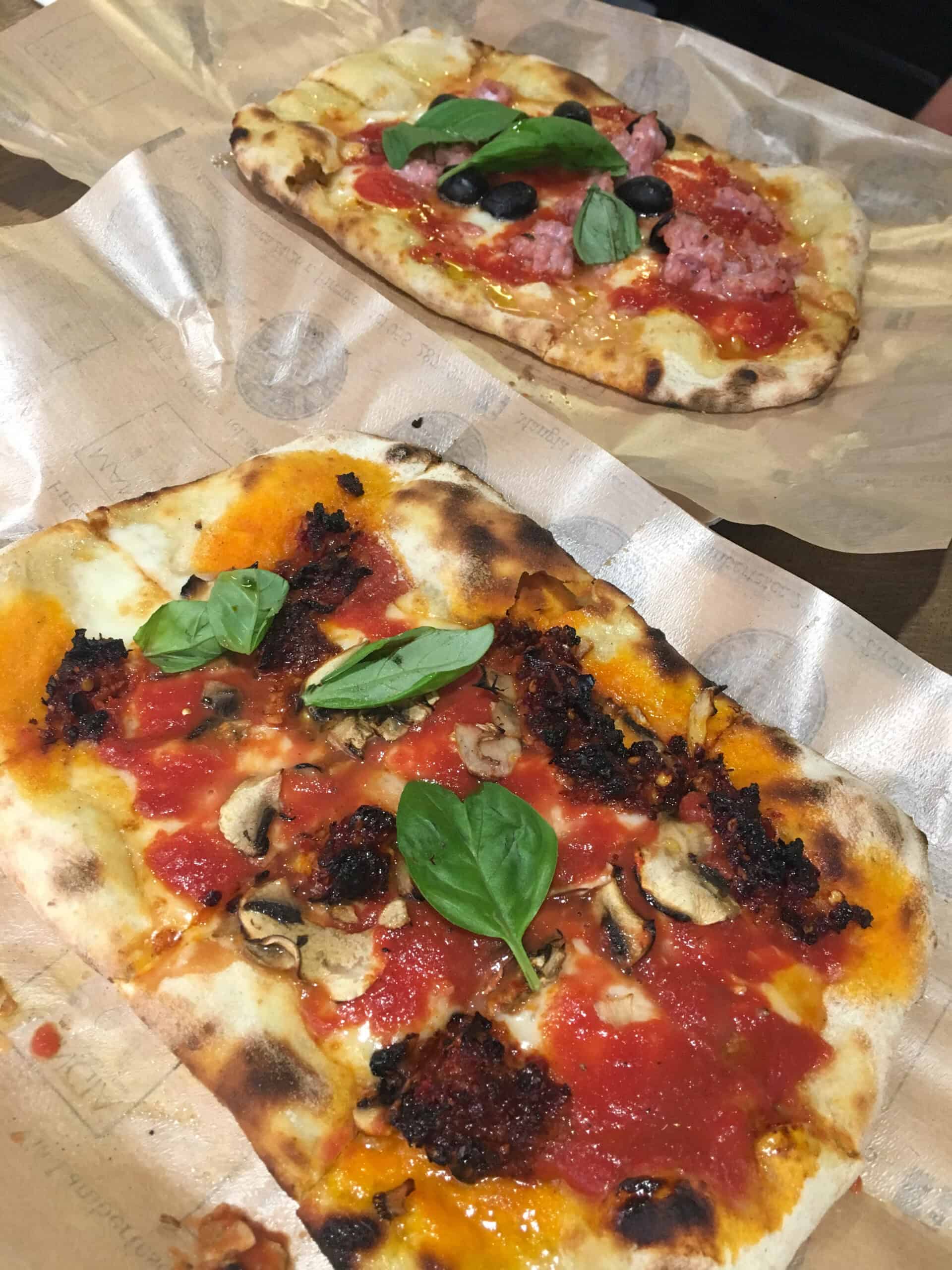 Mangia Pizza Via Lambertesca, 24, 50122 Firenze FI, Italy
Magia pizza offers delectable wood oven made pizza in a self-seating, casual setting.
You can either pick your own topping or choose from an array of topping combinations on the menu, with the small sizes costing 6 to 7 euros on average.
They make your pizzas to order, and each order is topped with fresh local ingredients and made with a thin and crispy crust, making this a great option for lunch as it won't weigh you down for the day.
Bondi Focaccine Via dell'Ariento 85R 50123 Firenze FI, Italy
This unassuming pizza and sandwich shop is located a few steps away from the Mercato Centrale.
There are self-seating benches for eating in, which offers a quiet respite from the busy street it is situated on.
The sandwiches and pizza slices here can be found at a steal at only 2 to 3 euros an item.
Sandwiches come in varieties with porcini mushrooms, gorgonzola, shrimps, pesto, prosciutto, mozzarella, and more.
The pizzas are thin-crust squares of mozzarella, prosciutto, speck sausage, mushrooms, and more.
You can even add a glass of Chianti wine for 2 euros. A true gem.
Mercato Centrale Piazza del Mercato Centrale, Via dell'Ariento, 50123 Firenze FI, Italy
Mercato Centrale is a large food market where fresh produce and artisanal foods are sold to locals and restaurateurs.
On the second floor of the market is a bustling food court where you can save your money on a guided food tour and lead your own self-guided food tour from each of the vendors, all under the same roof.
Here you can find a rotating selection of vendors specializing in pizza, the lampredotto sandwich, arancini, wines, cheeses, burgers, sushi, coffee, truffles, cannolis, and more.
Though I wouldn't consider this market a budget choice, it is a convenient way to sample different cuisines if you are short on time.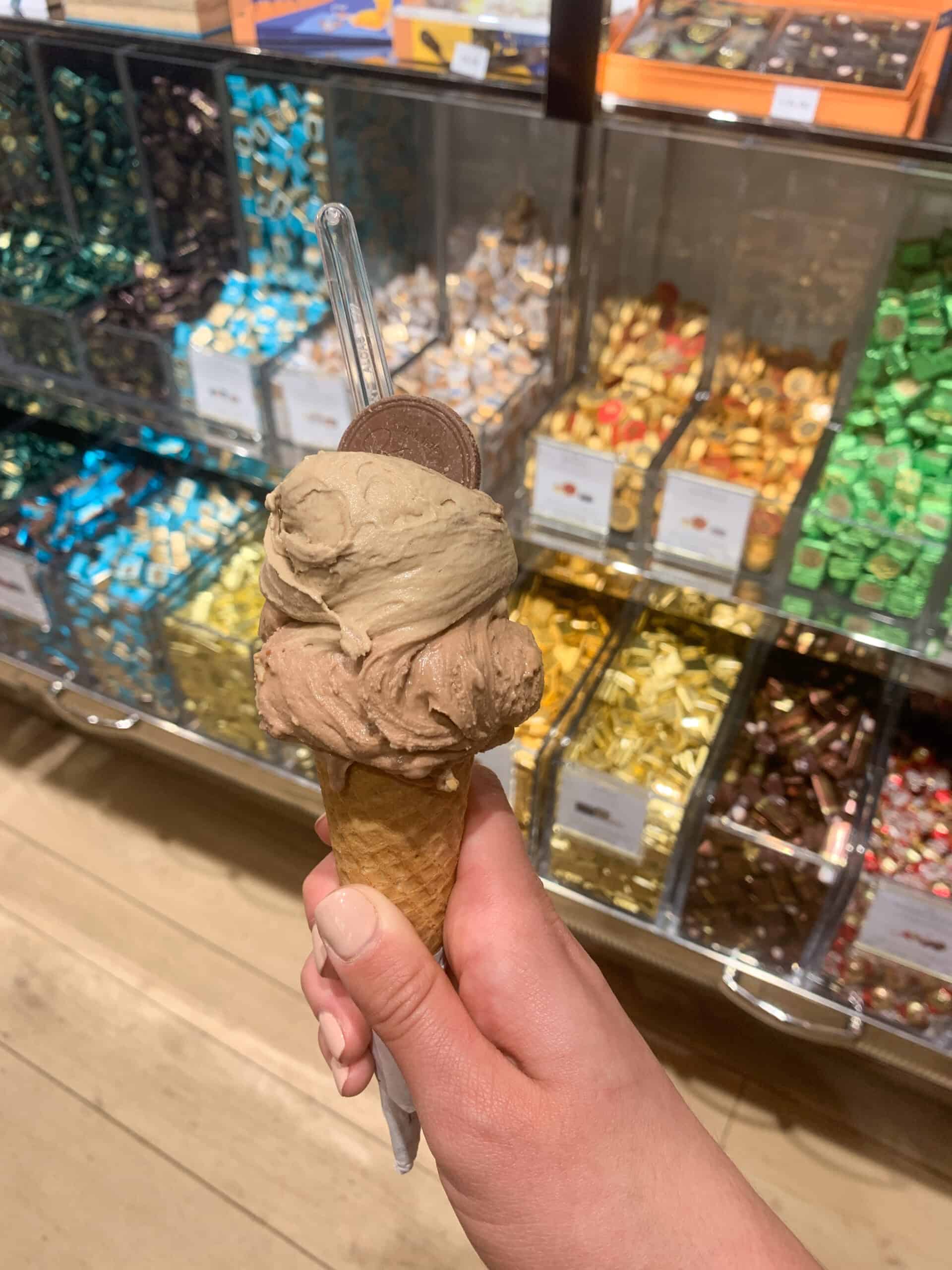 Venchi Gelato
Okay, this is a chain found in most Italian major cities.
However, if you stick to the chocolate and/or nut flavored offerings, which are their specialty, they have some really outstanding flavors.
The chocolate hazelnut is my favorite as it reminds me of Ferrero Rocher.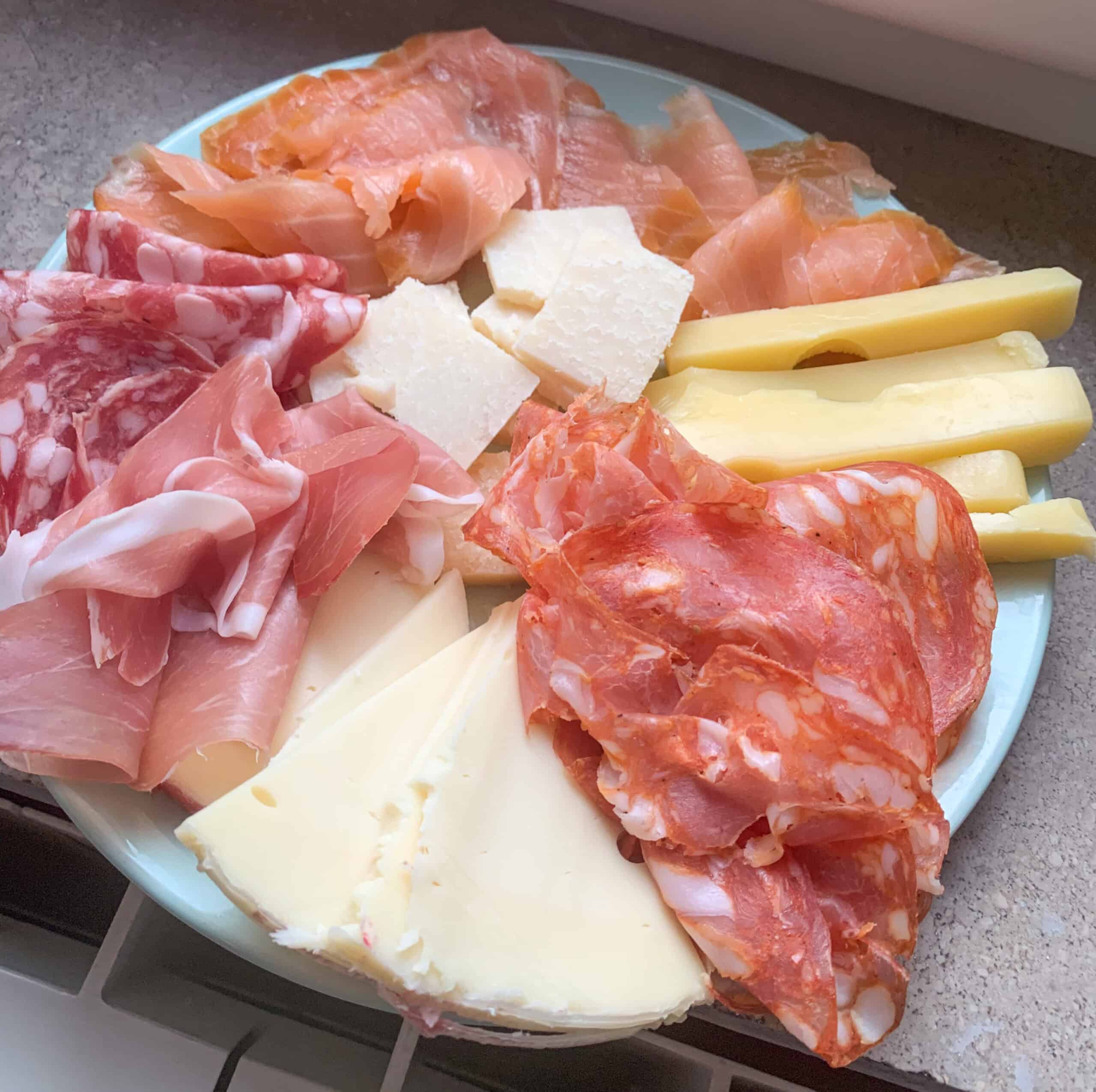 Sapori & Dintorni Via de' Bardi, 45/47, 50125 Firenze FI, Italy
One of my favorite ways to acquaint myself with a city's foods is to go to the local supermarket.
It is also a great way to stock up on some snacks to bring back to your accommodations after a jam-packed day.
In Florence, many mini markets can be found throughout the historic center, with Conad, Coop, and Carrefour being some of the most popular chains.
Sapori & Dintorni stores by Conad are specialty supermarkets that have excellent deli selections of meats and cheeses, premade meals such as pasta and sandwiches made in house, and all of the usual staples one would shop for.
I like to pick up different items to create my own meat & cheese boards – cured meats like prosciutto, fresh buffalo mozzarella, Parmigiano Reggiano, biscotti, and Italian pear juice, which has a thicker consistency with lots of pulp and is made with local sweet pears.
I prefer to go out of my way for Sapori & Dintorni shops because they are like a destination in itself and are priced very competitively for the quality of food than specialty shops yet stock much of the same things.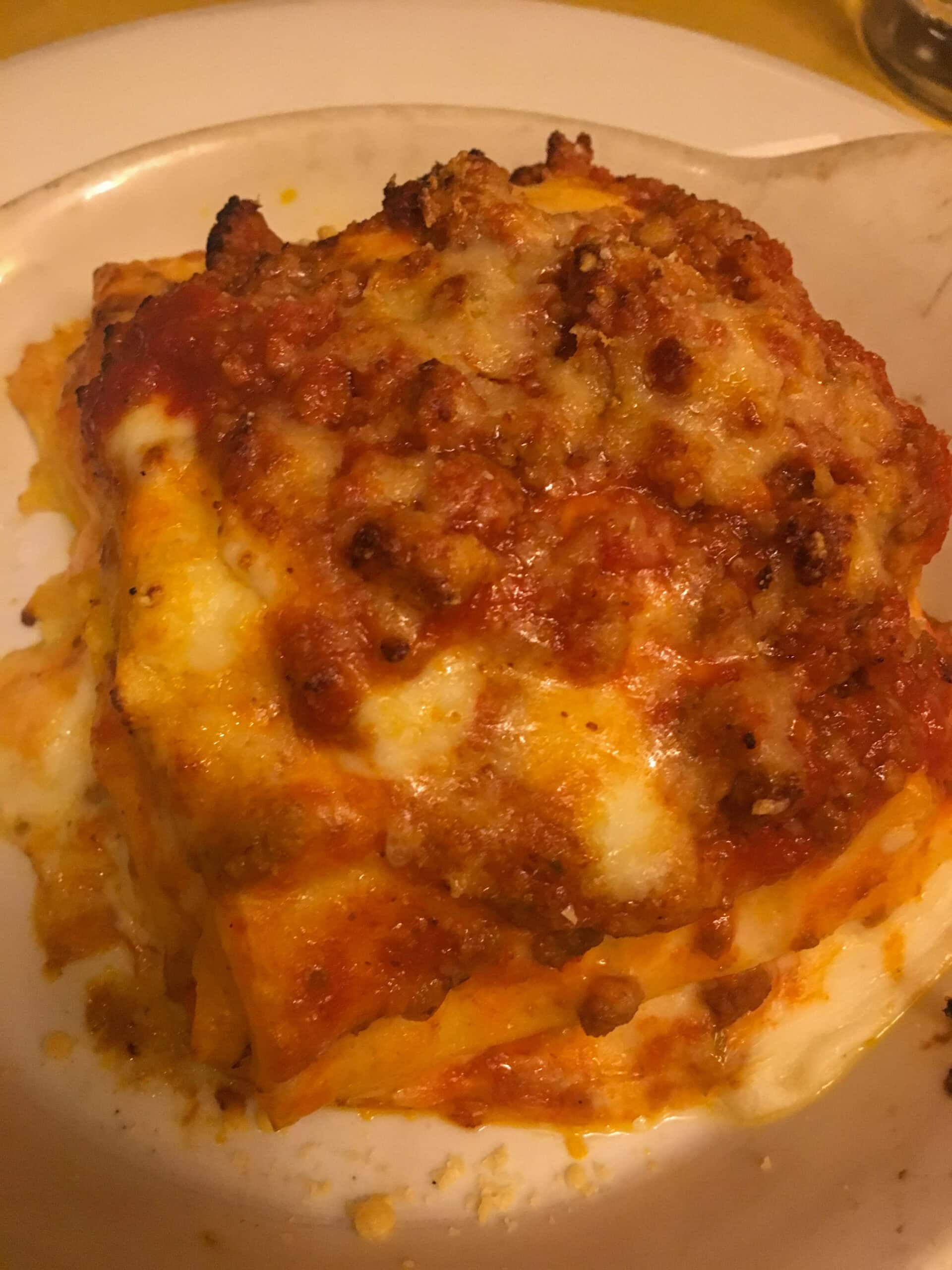 Pensavo Peggio Via del Moro, 51, 50123 Firenze FI, Italy
Pensavo Peggio is a great option for a slice of their famous lasagna or any other homestyle Italian dish.
The cuisine here is simple but all the more enjoyable.
The majority of the pasta costs 6 to 13 euros, and house wine is offered at 3 euros a glass and Peroni Beer at 4 euros a glass.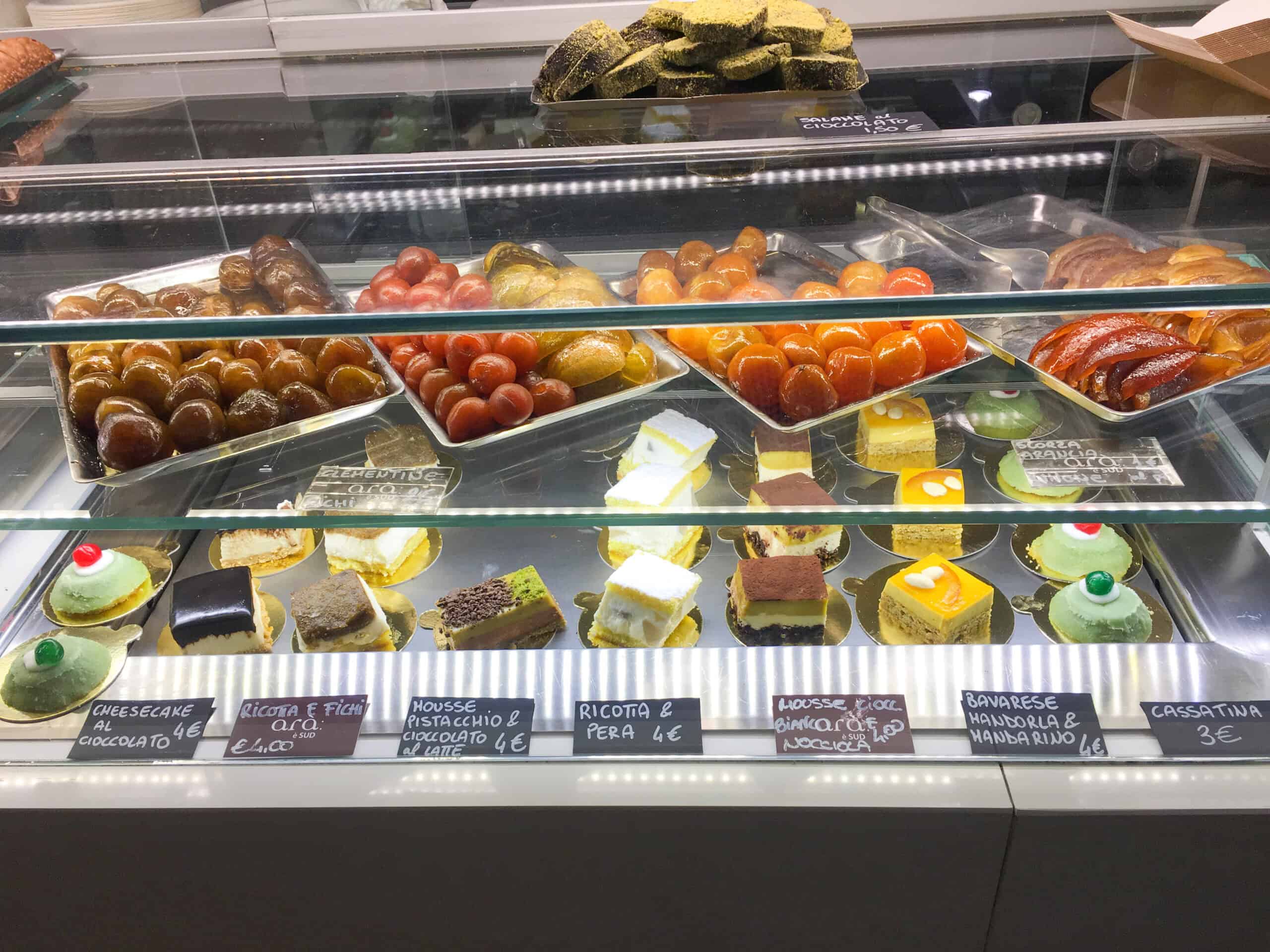 Arà: è Sicilia Via degli Alfani, 127, 50122 Firenze FI, Italy
Arà offers some of the most delicious cannolis in Florence. Though cannolis are from Sicily, this delicacy can be found throughout Italy.
One cannolo can be ordered for 3 euros here and is stuffed in front of your eyes with fresh cream at the time of order to preserve the integrity of the crispy shell.
You have to try it to experience the creamy goodness juxtaposed with the semi-sweet hard shell, which is also made in house.
This shop also has many other sweet treats and traditional Italian street foods like fried seafood and arancini.
And everything on the regular menu is under 5 euros.
King Grizzly
This classic tavern offers a great selection of craft beers from Italy, Belgium, and Germany. They also have several Italian microbrewery beers on tap.
There is casual seating around tables made of old wooden barrels and a great atmosphere for a drink amongst locals and tourists alike.
Beers are 3 euros for a small, 6 euros for a medium glass, and 15 euros for a large. A medium is about a pint.
The barkeepers are all very knowledgeable about their selection and eager to help you make an educated and pleasant choice.
Bonus Location
Dot.Com at The Mall Firenze Via Europa, 8, 50066 Reggello FI, Italy
This luxury outdoor outlet mall just outside of Florence has outlets for exclusive designers like Gucci, Ferragamo, Prada, Chloe, Saint Laurent, and more, making it the perfect location for the designer bargain hunter.
Food options can also have luxury price tags at this mall, like the Gucci Caffè.
Dot.Com offers a wide selection of food, including salads and paninis, and a great slice of pizza at an affordable price.
Many of The Mall employees eat lunch here, so it can get jam-packed during lunchtime.
See also: Via Francigena – The Ultimate Walking Tour in Tuscany
Restaurants by Neighborhood in Florence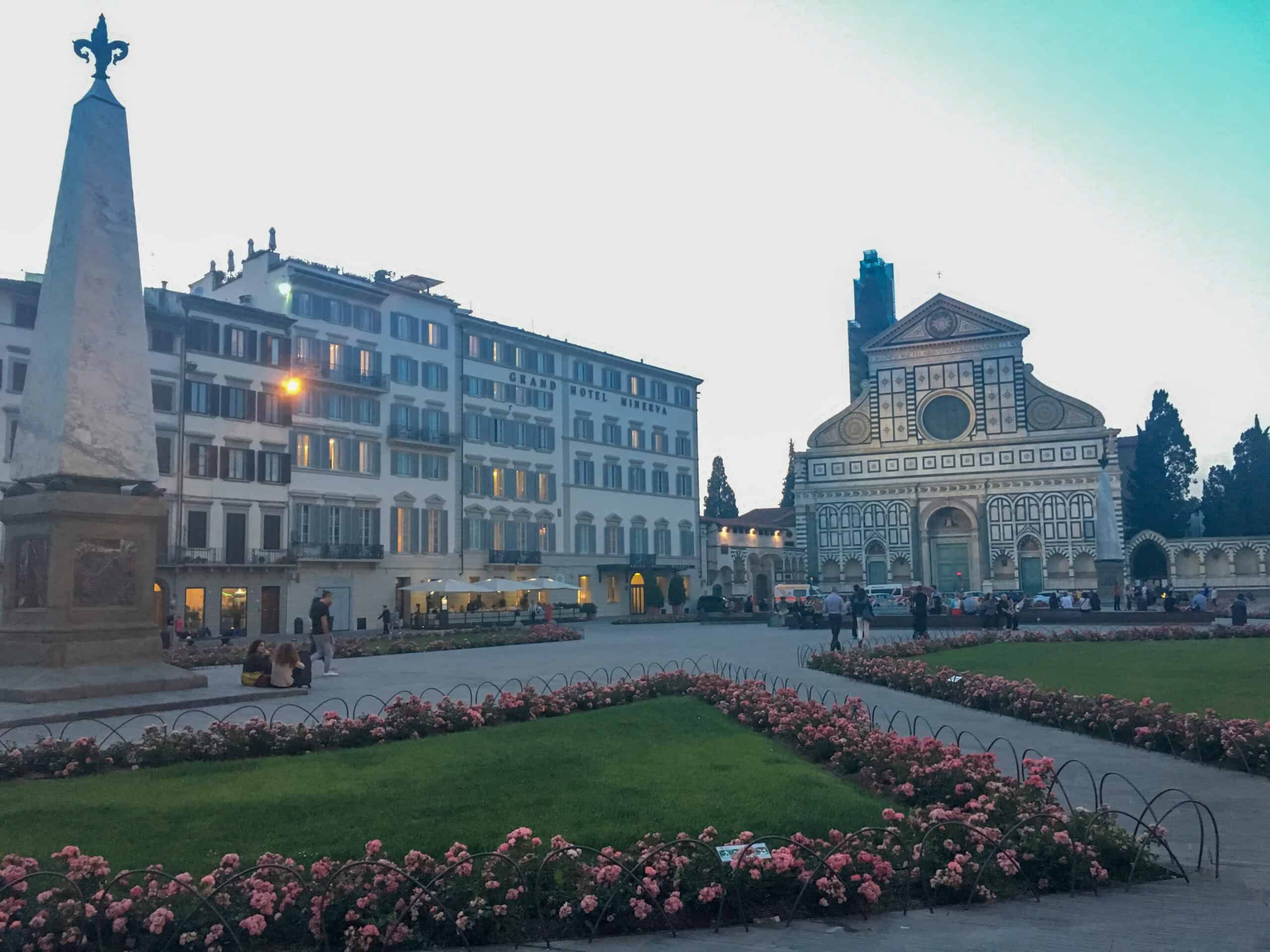 Sometimes it is more fun to find and wander into a spot of your volition.
After all, dining on a budget in Florence doesn't mean that you need to make any sacrifices.
Here are some general rules of thumb for the types of restaurants located in Florence's central neighborhoods and some specific streets with a high concentration of restaurants.
San Niccolò to Piazzale Michelangelo
The sloped streets between the Arno River and the Giardino delle rose, Giardino dell'Iris, Piazzale Michelangelo are home to many upscale dining establishments, and some even with Michelin stars.
However, it is also home to many casual establishments that serve homestyle Tuscan fare.
This is a great area to experience in the evening when the crowds have dispersed for an enchanting nighttime view of the Arno River.
There is a great stretch of osterias and takeaway spots along Via di S. Niccolò.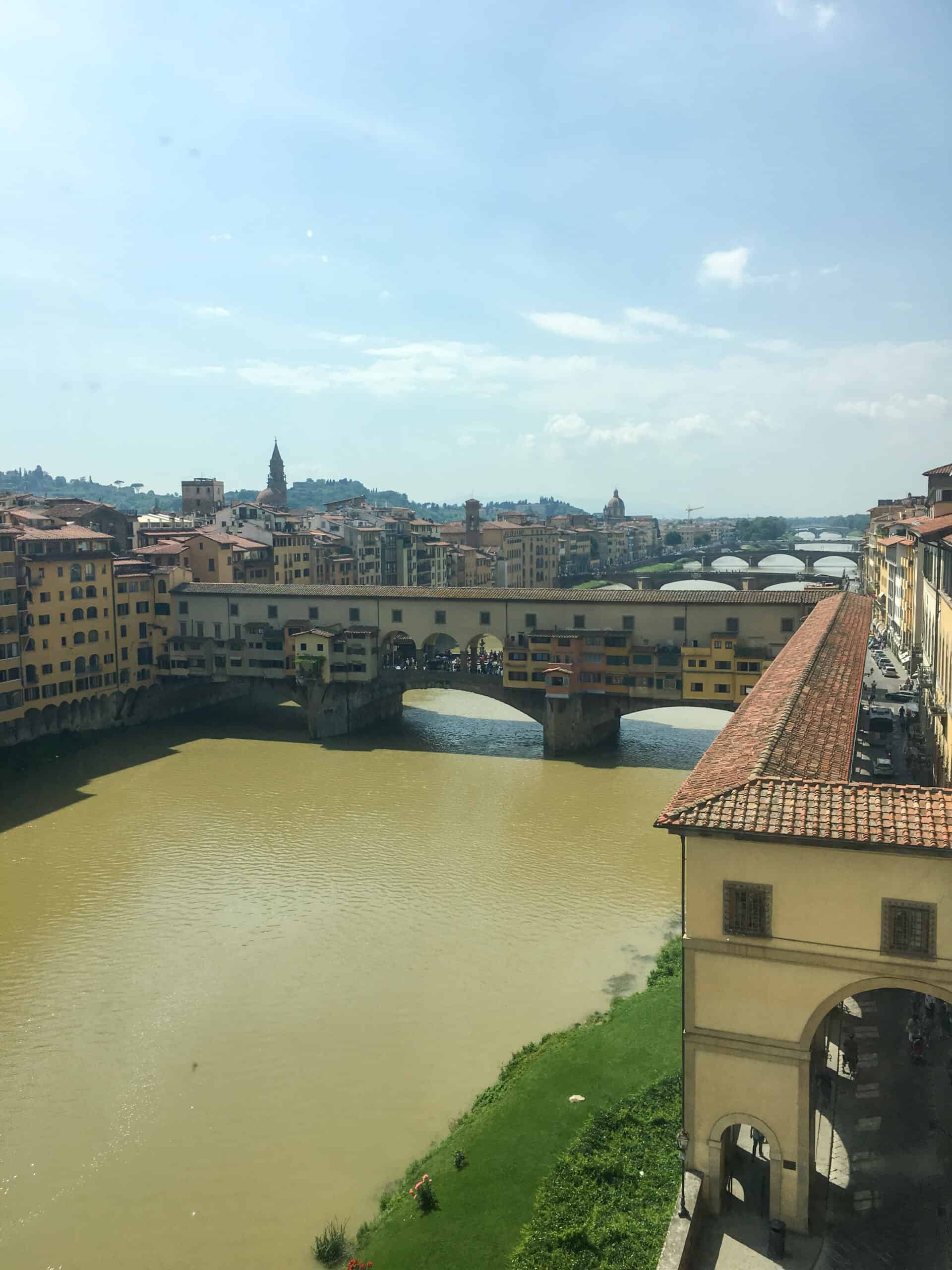 Ponte Vecchio to Pitti Palace
The immediate area has many spots that would be considered tourist traps.
However, if you walk a few blocks south of the Arno river along Via Maggio, there are many delicious osterias, trattorias, and the famous Gusta Pizza.
Piazza della Signoria
There are a number of restaurants situated around this square. Many of which are geared towards tourists because of the views.
This is a great place to grab a drink or espresso, but be wary of the coperto charge.
Piazza della Repubblica
Piazza della Repubblica is a beautiful piazza. There are a few high-end cafes dotted along the square. You can expect to pay extra for the ambiance.
Because this is a public square, you can just as easily grab a takeaway drink and sit under one of the monuments.
Duomo
Many restaurants and cafés surround the famous Duomo. Meals can be had at any budget here with views of the majestic structure.
Although there are your typical tourist traps, there are many great meals that can be found in the area for under 10 euros per person.
San Lorenzo
There are many budget-friendly trattorias in this area located along Via Borgo San Lorenzo and the surrounding streets of the Basilica de San Lorenzo.
I like the neighborhoods because there is a more local feel while still being a stone's throw away from the attractions.
Santa Croce
From the historical center, the neighborhood of Santa Croce is only about 10-15 mins away by foot. It is full of local spots to eat without breaking the bank.
A few spots along the Piazza di Santa Croce offer awe-inspiring views of the basilica while dining al fresco.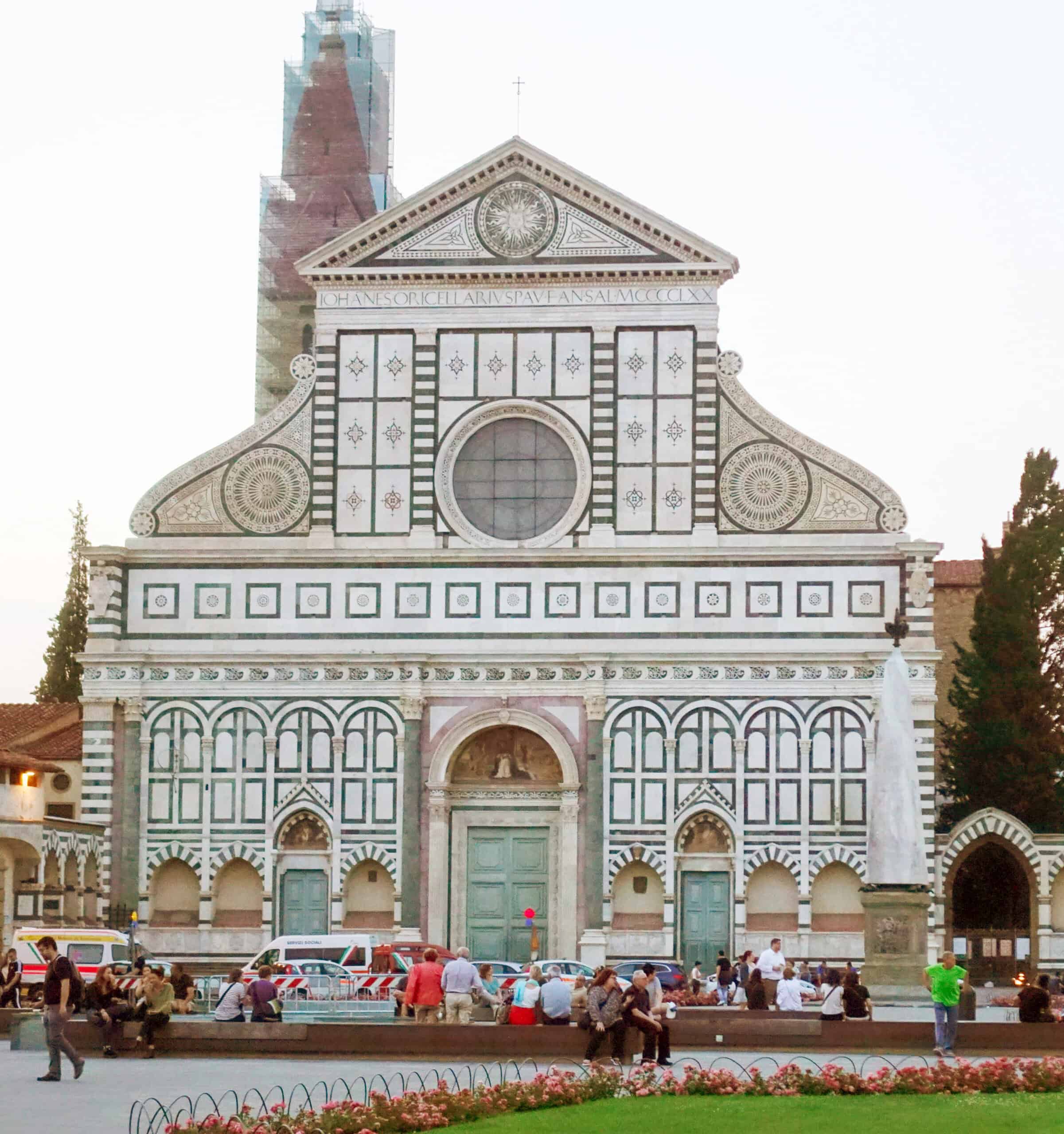 Santa Maria Novella
This train station is the main lifeline for Florence and its surrounding regions.
The Mok? coffee shop inside the station is a great place for a coffee and snack before embarking on your journey.
The surrounding streets can be almost as busy as the station itself.
Generally, I wouldn't recommend eating in the area, as there are better experiences to be had only a few blocks away.
For more recommendations, check out Where to Eat in Florence for Foodies on my blog.
The post Budget Food Guide for Florence, Italy appeared first on Go Backpacking.